For a change, it seems like we will be living in our 2 room apartment in the student dorms for a while, without having the need to move constantly between flat shares or sharing the place with other people.
Finding an apartment in Berlin without the proper papers (aka conventional income) is a nightmare in itself, and we are lucky to be living in a student dorm since last summer. The apartment and bathroom are ours, kitchen is shared which is no big deal, since it is being taken care of by a clean lady every day - conditions which my parents in their university days during the Soviet Union would have never even dreamed of...
Part of the living room. The shawl is a traditional Ukranian design, and was given to me by my grandmother when I went to Uzbekistan last September. She bought it back in 1973.
Which is why I can allow myself to focus on decorating the place since it feels more or less "ours". We have been filling the walls with posters from gigs in the bed room, being the "goth room" (which is a healthy closure for my issue with not having my own room throughout my teenage years); and hanging shawls as tapestries and maps from different places we´ve been to in the other room, which serves as the living room.
Part of the bedroom wall. Picture is outdated, as there are a LOT more posters now. I love stealing me some posters.
The shawl is also from by grandmother, and amusingly looks like huge underwear when viewed from a distance lol.
But this is not enough for me! I actually love having color around me and would not want to have a black, super gothy interior. I have been inspired by bohemian interior design (throwing fabrics and pillows all around is hardly a design, but alas) and would love to just cover the walls with a bunch of blankets, shawls and psychedelic themed tapestries. Somehow it makes me feels really good and for now is the only kind of decoration I can live with.
The common European Ikea themed room or the ever so wished adolescent velvet-victorian-cabinet of curiosities inspired interior only make me sick.
For now I am into bohemian interior (fabrics, colors etc) mixed with squat elements (posters and flyers on the walls, cheap and random diy stuff).
Here are some home decoration goals: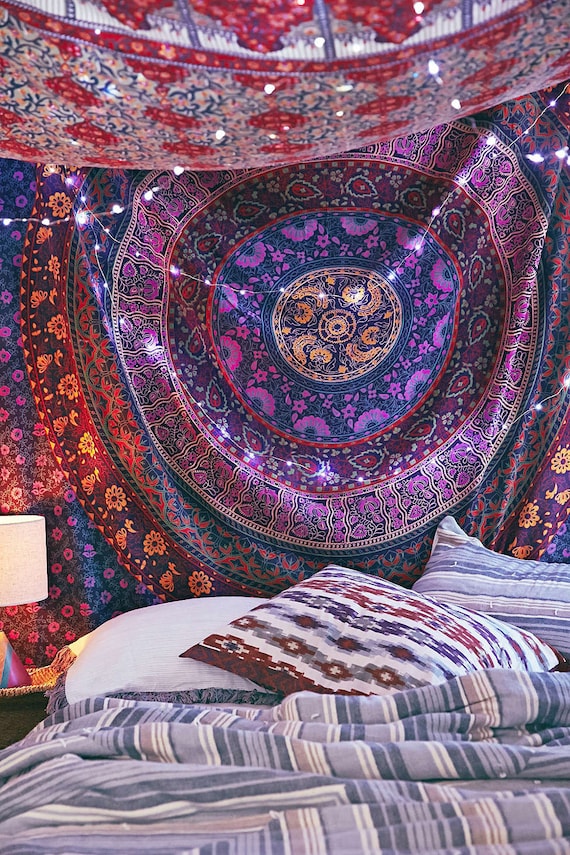 Source, definitely buying this tapestry soon.
A lot of these pictures focus on a huge cosy looking bed, which we don´t have and cannot afford at this state. But what I do like is the messyness being part of the decoration, as well as a lot of room for diy.
I would love to buy furniture, but the dorms we live in came with furniture that we cannot store anywhere if we want to replace it with our own, which is why our bed is actually 2 single beds brought together. Not the fanciest solution but it´ll do for now.
I am also not a fan of these fabrics hanging above the bed- makes me think of all the dust being stored up there!
Using shelves as a book closet is a cool idea, I´ve seen people doing it in Berlin quite often, especially in stores.
What do you think? What is your dream house decorations?
Have a wonderful rest of the week, hopefully a wild weekend awaits!
N. Finsternis